CM Storm Trooper – Water Cooling Options (Part 1 – Roof-Mounted Radiator)
Roof-mounted Radiator
The Storm Trooper has a 200mm fan installed on the inside surface of its roof.  However, you can remove this fan and install a dual-120mm radiator set-up in this location instead.
Here's how you do it:
Step 1:  Take the roof off
We need to remove the Trooper's roof section to get access to the fan's screws. To remove the roof, you first need to slide the removable top fan filter off its mounted position.
With the fan filter removed, you can then pop the top panel off.  The top panel is held in place by six tabs (three on each side).  Working on one side first, push the tabs towards the outside of the case, then gently tug the top panel upwards.  Repeat the process on the other side, and the entire top panel comes off very easily.
Step 2:  Uninstall 200mm roof fan
Once the top panel is removed, you have easy access to the four screws holding the 200mm roof-mounted fan in place. Use a screwdriver to remove the screws.
And that's it!  Easy, eh?
Step 3:  Install radiator
There are a few different radiator configurations that we can choose from (fans in push, pull, or push+pull).  However, we have to know what we've got to work with in terms of available space.  This point is that not all cases are created equal in terms of available space in the roof area.
Now why is this a factor to consider?
Let's say we want to mount a thick radiator – something like an XSPC RX240 – with four 120mm fans in push+pull configuration.  Typically 120mm fans are 1.0″ thick (2.5cm).  If we opt to use a push+pull fan configuration on our radiator, that comes out to 2.0″ (5.0cm) worth of fan width that we need space for.  Then you also have to take into account the radiator's own dimensions.  A thick radiator like XSPC's RX-series radiators is ~ 2 3/8″ (5.9cm) thick.  So, given two 1″ (2.5cm) thick fans and a 2 3/8″ (5.9cm) thick radiator, that means we'll need almost 4 1/2″ (11cm) of space from the bottom of the roof panel and the top edge of the motherboard.
Now why is this a consideration?
Suppose you're using a motherboard with a tall VRM heat sink array lining its top edge, or maybe the RAM DIMM sockets are positioned close to the very top of the motherboard.  If your motherboard has either (or both) of these components close to the top edge of the motherboard's PCB, that means there's a great chance the radiator and push+pull fan assembly won't fit up on the roof.
Now I've measured the distance from the top of the Trooper's roof's inside surface and the location of the top row of standoffs.  The measured distance is a hair over 2″ (5cm).  That means we cannot have a push+pull fan set-up on our top-mounted radiator.  Moreover, the space available also means we most likely cannot fit a thick radiator up on the Trooper's roof either.
However, we can mount a pair of 120mm fans on a thin radiator like the XSPC RS240 very easily without any fitment issues.  A thin radiator with a single row of fans on push/pull will not be as efficient as a thicker radiator, but it definitely will still be more effective at cooling than even the best air-cooled heat sinks available on the market.
Installing a dual-120mm radiator is a simple matter of screwing it in place.  I opted to put the fans between the radiator and the Trooper's roof so I'll only be using a single set of mounting screws.  (The other option would have been to put mount the radiator on the roof using one set of mounting screws, then mounting the fans on the other side of the radiator using a second set of screws.)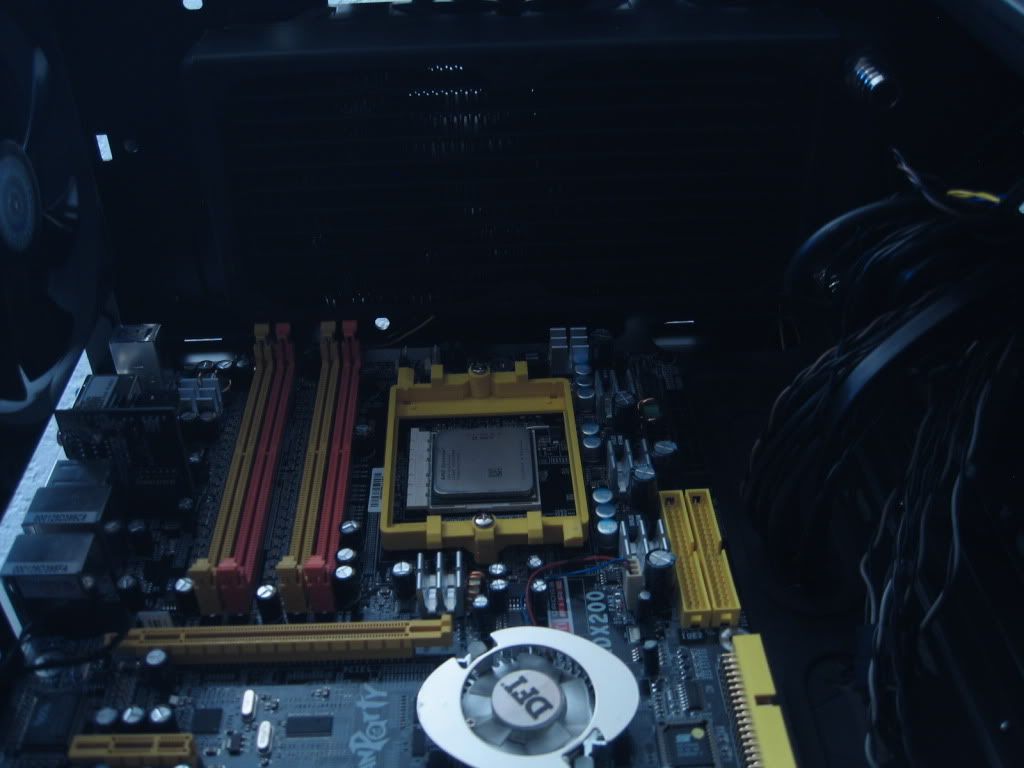 This mock-up (using a vintage classic AMD Socket 939 DFI LANParty RDX200 motherboard) shows how some motherboard layouts can indeed influence your decision to mount a radiator on the Trooper's roof.  Note the location of the DIMM sockets; if we were using RAM DIMMs with very tall heatspreaders along with either a thick radiator or a push+pull fan set-up, we would definitely run into some clearance issues.  But knowing about this possible complication will save you some headaches if you decide to mount a radiator up there.
2012

02

/01

POSTED BY

CATEGORY